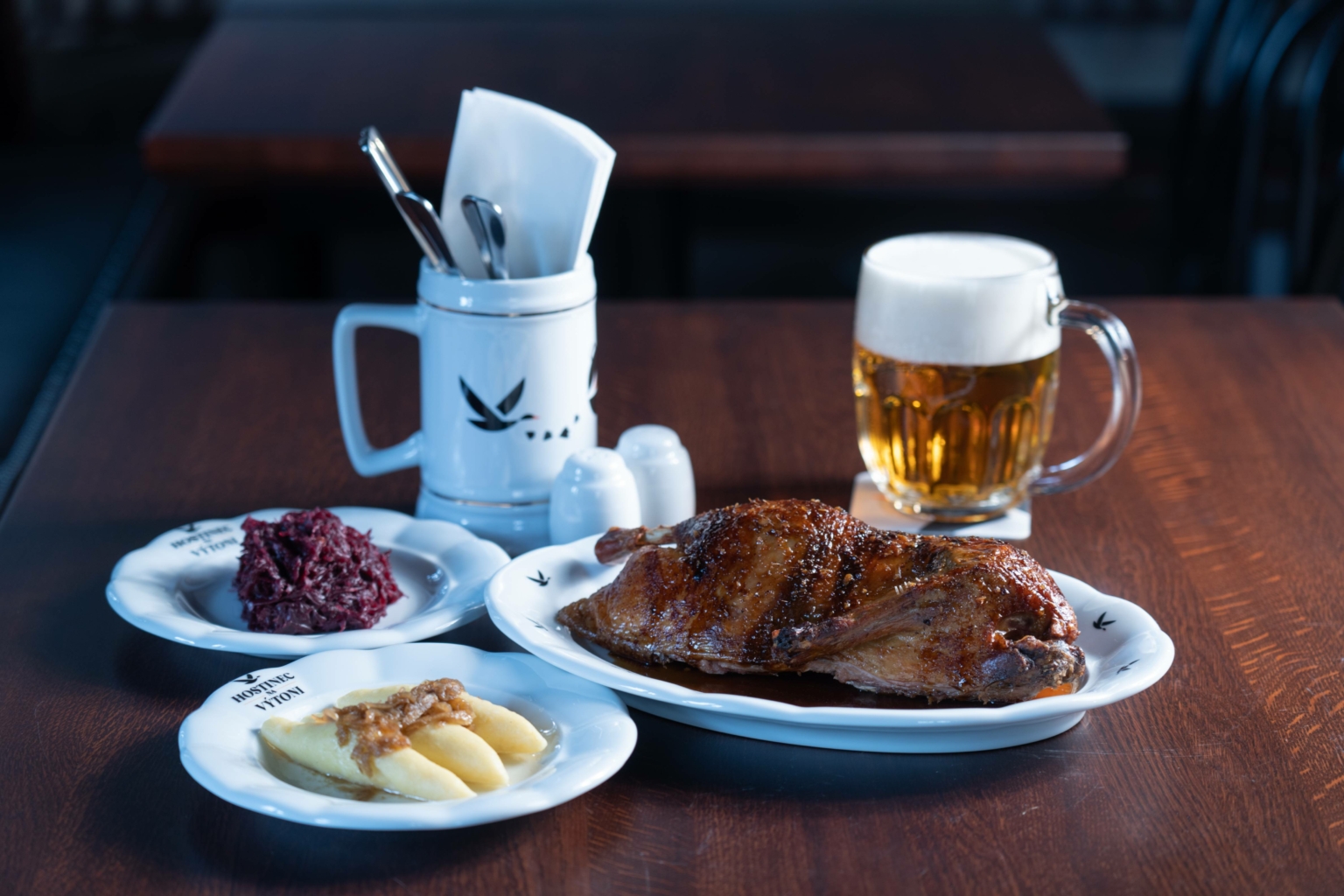 ---
Welcome
To the Hostinec na Výtoni, where duck specialties are prepared with care and passion. Thanks to original recipes and modern techniques, every meal becomes a unique experience. Come and enjoy gastronomy in the historic building of the Podskalska celnice. We look forward to seeing you.
Jakub Hirsch, Chef
---
Menu
Appetizers
Our cabbage pastry, sour cream with garlic
169 Kč
Czech aromatic cheese with onions, paprika spice
169 Kč
Fried catfish, smoked mayonnaise, horseradish
269 Kč
Prague style snails, 6 pcs
269 Kč
Duck spread with herbs, cumin and pickled vegetables
199 Kč
Fried duck liver and hearts in beer batter
199 Kč
Duck blood sausage with foie gras, apple mustard
299 Kč
Soup
Duck broth with dumplings, pasta and spices
109 Kč
Main dishes
Half a duck on the grill, sauce - our speciality!
379 Kč
Pulled duck in a potato pancake
339 Kč
Duck meatloaf with truffles in poppy seed braid
369 Kč
Roasted trout from Klatovy, crayfish, confit garlic hollandaise sauce (until sold out)
379 Kč
Baked pasta with poultry and morel mushrooms
369 Kč
Side dishes
Potato pancakes with lard
79 Kč
Red cabbage with apples
59 Kč
Smoked potatoes, cracklings
59 Kč
Sourdough bread, bowl of lard
59 Kč
Salad
Mixed leaf salad with blue cheese, pears, nuts and cranberry dressing
229 Kč
Desserts
Potato cones, roasted (baked) plums and poppy seed ice cream
169 Kč
A scoop of ice cream
59 Kč
Beer
Pilsner Urquell 0,25l / 0,45l
55 / 65 Kč
Pilsner Urquell "šnyt"
55 Kč
Pilsner Urquell "milk"
55 Kč
Kozel dark 0,25l/0,45l
55 / 65 Kč
Cut beer 0,25 / 0,45l
65 Kč
Fruit Birell non alcoholic 0,25l / 0,45l
45 / 55 Kč
Wine
Frizzante Müller Thurgau 0,1 / 0,75l
70 / 385 Kč
Rulandské šedé late harvest 0,15 / 0,75l
109 / 459 Kč
Chardonnay late harvest 0,15 / 0,75l
109 / 459 Kč
Ryzlink rýnský Akát Reserve 0,75l
599 Kč
Frankovka Kubík 0,15 / 0,75l
109 / 459 Kč
Rulandské modré - A selection of grapes 0,15 / 0,75l
109 / 459 Kč
Frankovka Michael's Reserve - A selection of grapes 0,75l
835 Kč
Velká červená slípka barrique 0,75l
750 Kč
Sekt Riesling 2018, extra brut
999 Kč
Our homemade lemonades
Gooseberry and vervain 330ml
69 Kč
Apricot and vanilla 330ml
69 Kč
Soft drinks
Soda 0,33l / 1l
35 / 69 Kč
Filtered water with lemon 0,33l / 1l
29 / 59 Kč
BIO apple cider 0,33l
79 Kč
Tonic motherwort and lemon balm 0,2l/0,7l
60/180 Kč
Bohemsca BIO Cola 0,33l
79 Kč
Liqueurs
Cherry-honey liqueur Agnes 2cl
50 Kč
Ginger Inspiritus 2cl
60 Kč
Peppermint Svach 2cl
50 Kč
Mead from flower honey Vorlíček 2cl
50 Kč
Raftsman's degustation paddle 4 × 2cl
239 Kč
Rowan Ratafia Spirit 2cl
65 Kč
Mandlička Ratafia Almond Spirit 2cl
70 Kč
Mixed drinks
Ja-ka-ma-rus and Tonic
155 Kč
Frizzante and Apricot
159 Kč
Fruit spirits
Slivovice (Plum brandy) Horňácká from Kuželov 2cl
65 Kč
Hruškovice (Pear brandy) Muškatelka (kosher) Agnes 2cl
65 Kč
Bezinkovice (Meringue brandy) Radlík 2cl
75 Kč
Meruňkovice (Apricot brandy) Svach 2cl
65 Kč
Vínovice (Wine brandy) from an oak barrel Radlík 2cl
95 Kč
Jablkovice (Apple brandy) from oak barrel Radlík 2cl
85 Kč
Rynglovice ("Ryngle" brandy) Výtoňka 2cl
65 Kč
Alkohol
Tuzemák (domestic rum) River Dog Svach 2cl
55 Kč
Whisky GOLDCOCK Peated Single Malt R.J. 2cl
80 Kč
Hot beverages
Loose leaf tea (black, green, herb)
59 Kč
Tea made from dried fruit
79 Kč
Hot fresh mint and Svach's peppermint
109 Kč
Hot mead from flower honey
129 Kč
---